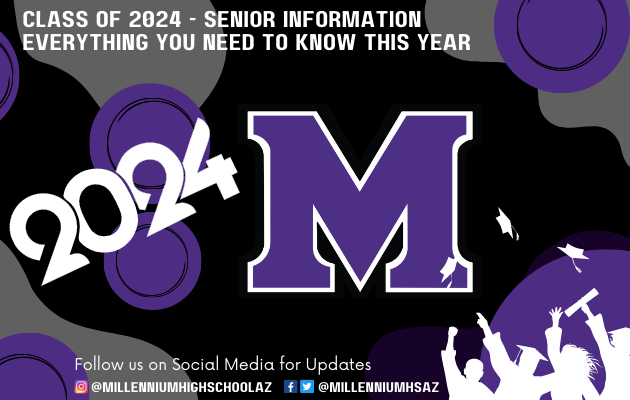 Graduation 2024
Graduation will be held at State Farm Stadium on Saturday, May 18th. Graduation times will be announced as soon as they are known.
Senior Portraits
Senior Portraits

We have a one-day event on campus for a Senior Photo to be taken for the yearbook on 11/13. You do not need to make an appointment. Unfortunately, we signed on with Lifetouch too late in the season to do the Senior Photography "Sessions". If you are looking for an in-studio opportunity, it will be at a studio of your choice this year, for personal use. Do not try to book an appointment with Lifetouch this year for Senior Portraits. We will resume next summer for the following Senior year with on Campus Studio Sessions. Our apologies for the inconvenience and confusion in this transition.

For your yearbook senior portraits, please note that these will be chest-up photos, and dressy attire is required. "Dressy" means selecting clothing that reflects your personal style while maintaining a level of formality suitable for this special occasion. Please choose classic, well-fitted attire in solid colors or subtle patterns. Avoid busy designs, logos, or overly bright colors. Coordination with the yearbook's color scheme is appreciated. Accessories should be minimal, and grooming should be on point. Remember to wear your dressy attire with confidence and a smile as you create a lasting memory of your high school journey.

Additionally, please ensure that your outfit selection does not include strapless attire and meets the school dress code guidelines.
The senior ads for the yearbook are ready to order. The prices are as follows

-one-line plate: $5
-full page cover at $200/$300
-half page cover ad- $150/$250
-quarter page covered-$75/$175
-shout out 1/8 page cover act- $50
-shout out 1/6 page cover ad-$25

As a quick reminder the yearbooks price increases to $60 from $55 starting on October 1st. This is another reminder to purchase a yearbook while you can.


To learn more about the yearbook and stay up-to-date please visit https://www.aguafria.org/millenniumyearbook.
Order Your Cap & Gown With Jostens
Jostens is our vendor for your cap and gown. They do sell other items such as announcements, lettermen jackets, spirit gear, Class of 2024 memorabilia, plus so much more. They will have several deadlines throughout the year, so please watch for that communique from them.

The only item required to be ordered through Jostens is the cap and gown to ensure it's the right color purple. Caps and gowns from previous graduating classes at Millennium are also OK to be reused as the color purple has remained the same from Jostens for many years. The only thing needing to be purchased at that point would be the tassel.

Jostens Phoenix Office

14827 N. Cave Creek Rd

Phoenix, AZ 85032

602.765.7227

602.765.7447 fax