Device Protection Plan
There is no cost associated with 1:1 Technology Program. Parents/Guardians have the opportunity to purchase a protection plan through the district. The plan will cost $30 per device each school year, which includes an initial repair (additional repairs if needed will be $20 per incident), and limits the fee for replacement. Parents/ Guardians who choose not to purchase the Device Protection Plan are 100% responsible for all repair and replacement costs.


It is recommended that parents purchase the Device Protection Plan to minimize any costs that may arise during the school year. The activation deadline for the 2021-2022 school year is Friday, September 10th. Payment can be made through the Bookstore or online (Instructions to pay online through InTouch)

Students who enroll after September 10 will have 2 weeks to pay for and activate the Device Protection Plan; payment can be made through the Bookstore.

What Is Covered

Accidental damage

Malfunctioning parts or device

Reduced replacement cost for lost or stolen device. If the device is stolen, a police report must be filed and a copy of the report must be given to the school.

What Is Not Covered

Intentional damage

Failure to return the device and power cord upon withdrawal or at the request of the school

Damage from components not provided by the District

. Replacement components, including the device and power cord, must be purchased by the District. Any component purchased from an outside source will not be accepted as a replacement and damage caused by these components will not be covered.
Cost / Fees for School Device Repair and Replacement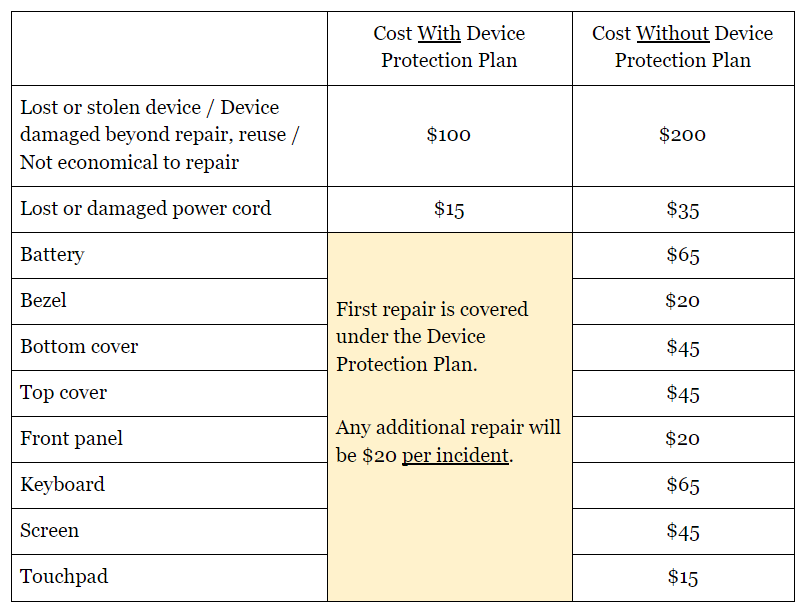 All repairs must be made by an Agua Fria Union High School District certified technician.

Additional costs can be assessed for repairs/parts not listed, but are needed to maintain the school device.

An email will be sent to the student, and parent if an email address is available, notifying them of any costs.

Payment for repair must be made at the Bookstore before the device is returned to the student. Please bring receipt to the Library.

The Device Protection Plan becomes void if repair and replacement costs are deemed excessive.

Warranty of the school device will be voided if device is damaged.