The Free Application for Federal Student Aid (FAFSA) is a form completed by current and prospective college students (undergraduate and graduate) in the United States to determine their eligibility for student financial aid.

The FAFSA is different from the College Scholarship Service Profile (CSS Profile,) which is also required by some colleges (primarily private ones.) The CSS Profile is used to determine how to give out their own financial aid funds.

The form is more detailed than the FAFSA and can be time-consuming to complete. The CSS Profile is a fee-based product of the College Board (a private non-profit organization)

and is usually used by the colleges to distribute their own institutional funding rather than federal or state funding. Before each year of college, a student can apply for federal grants, work-study,

and loans with the free Application for Federal Student Aid (FAFSA®) form. Your college uses your FAFSA data to determine your federal aid eligibility. Many states and colleges use FAFSA data to award their own aid.

After submission, you'll receive your Student Aid Report.

There are several types of financial aid:

Grants.
Scholarships.
Federal or private loans.
Work-study and other programs.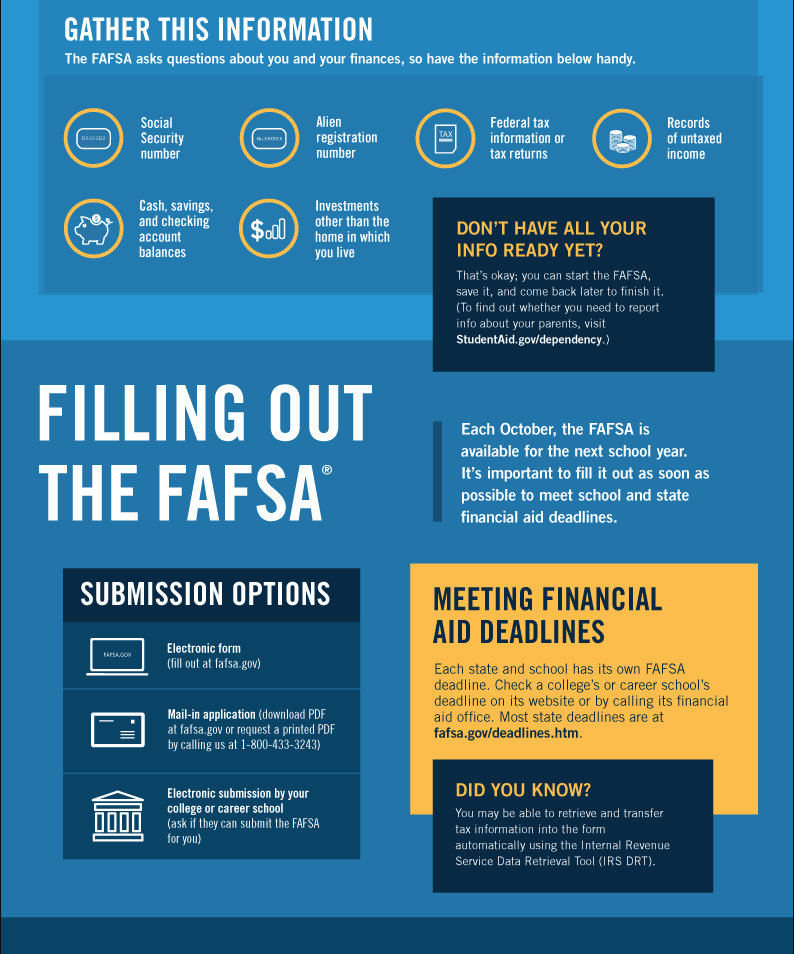 Families can begin filling out the form as early as Oct. 1 for the following academic year. The deadline for the FAFSA is June 30. But that deadline is only for federal financial aid.

Many schools that use the FAFSA to determine aid set earlier deadlines. The amount of aid a student receives depends on federal, state, and institutional guidelines.

Keep in mind that the way federal financial aid works is that students must first apply for the aid by answering a series of questions used to determine their ability to pay for college.

Then, aid is awarded based on that application, and students have the choice to accept or reject the aid offered. The type of aid offered determines whether it will have to be repaid.

Sometimes, students must complete additional applications to be considered for other scholarships or private aid.